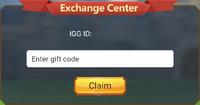 Players can use promotion codes to claim various prizes at the official Exchange Center.
In the first box, enter your IGG ID, or select the Player Name option and type your name exactly as it is in-game. The IGG ID can be found by going into Settings and then Account. In the second box, enter the Promotion Code. After pressing Claim, a box with current kingdom and might will appear; confirm that the information is yours, and if the code works (see below), the prize will be received. Promotion codes can only be used once per IGG ID.

Note: Please do not write your IGG ID in the comment section below. IGG ID's should only be entered at the Exchange Center page or on Lords Mobile social media's events like on Facebook or Instagram.
Where to find promotion codes
Promotion codes are typically given at the official Lords Mobile IGG forums below:
Working Codes
If more working codes are found that are not in this list, please write them in the comment section below, and they will be added to the list. Remember to follow the Rules when commenting.