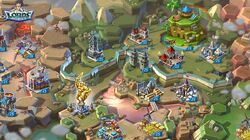 The player's Turf is the main area of play in the game, where things such as Buildings, Heroes, and Troops can be managed.
Turfs can be attacked and burned by other players. Turfs can be protected by activating a Shield. While it is active, the shield will ensure that the turf cannot be scouted or attacked by other players, although it can still be attacked by Familiar skills. If a player's turf is attacked, any troops in the Shelter will not be harmed.
When viewing the turf screen, players can switch to the Kingdom Map by tapping

in the bottom left corner.